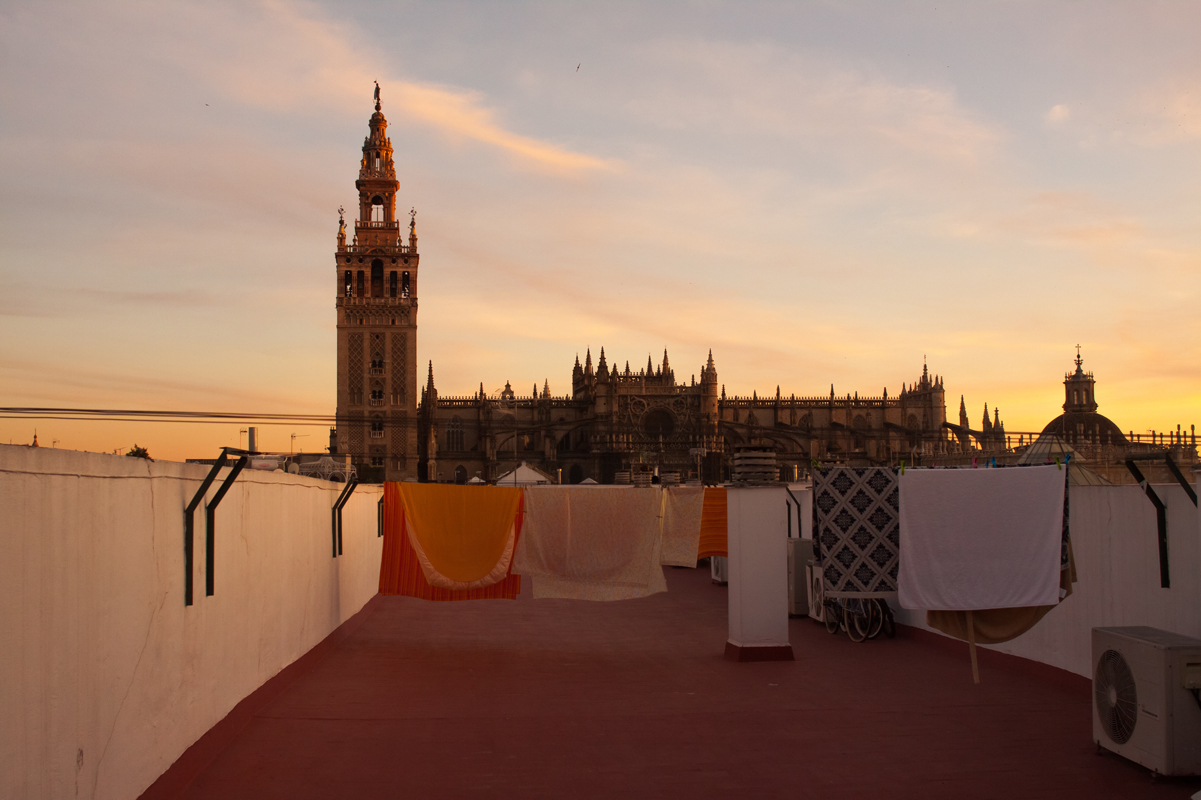 I woke up before a dawn to the noise of cleaning cars in our little alley of Seville off the Franco street. Through the gaps in the windows I could hear literally everything from the outside as if there were no windows. Since the morning streets were cleaned for day processions that always last until late at night. Semana Santa always fascinated me when I saw it on the TV. Not from a spiritual point of view but for its magical atmosphere. I was looking forward to this day but from other places I knew that if something happens in the streets, it calls for a good night's sleep and preparation for the grueling burning feet from infinite standing. Streets are very narrow here and the procession is passing just a few centimeters from the house walls. Therefore I conquered "my" tile an hour before passing inquisitors (pointed hoods) on the Franco street. Just like people from Seville. If they are waiting on a street where there is no bar or restaurant, they bring folding chairs, boxes with homemade tapas and family picnic can begin. Seville has 52 fraternities and each carry its procession to the cathedral. From one in the afternoon (I write after lunch, because they tend to have lunch at 2pm) processions cycle begins. The nicest part of the day is clearly midnight.
I lasted until one after midnight, tables in tapas bars finally started to free up. But just around the corner in a small street where you eat chorizo and jamon from the bar chairs, a great atmospheric moment of the day was about to start. For us, it is a theater with an unforgettable atmosphere and magic. But in the hearts of the Spaniards this moment means something completely different. Apparently it's a tradition that others understand and feel different. No one can exactly explain guidebooks which contain only a rough estimate of what's happening because Semana Santa is about history, faith, pride, honor, heart, etc. It's atmospheric theater that amazes senses as well as good food around.
It is fascinating how life in Spain is firmly connected with food. Food is not just a way to energize, means family. Family and good food are at the highest values here. In each raw material, there is a piece of a history and tradition, and it is sacred to them. Supposedly if one day the Spaniards could not afford good food, it would break out the revolution. You cannot become a Spaniard; you can only be born as one. Then you have all in your blood and you embody all old customs, traditions and lifestyle that ordinary Europeans cannot understand.